Network automation
Why wouldn't you?
Used and deployed correctly, network automation tools can bring significant benefits to an organisation, its employees and end users, Nomios helps organisations realise those benefits and break down the barriers that often leave network automation initiatives in project deadlock, or simply left on the shelf.

Automation is part of every project we deliver, it is in our DNA to help customers do more with less, to simplify configuration and operations of multiple tools and devices, and we do this through automation. Network automations tools are not a new and there is an increasing number of vendors and marketing hype, we help our customers cut through the complexity and proliferation of tools, platforms, solutions and vendors and simplify the process of network automation adoption and application.

We understand that network automation is not as simple as just buying an off the shelf tool. We know that there are changes that must happen within organisations, departments, teams and infrastructure to prepare for successful automation projects. But we know where, and how to start, to help you start your project.
We work with the best open-source and proprietary technologies and we are always researching the latest trends and testing the latest technologies but we keep an open mind and explore deep into the weeds far beyond the sales and marketing rhetoric.
Our goal is to help deliver automation initiatives and accelerate time to value, whether that is planning, initiating, expediting or proving ROI.
Automation insights
Some additional reading we think you might like.
Explore our latest whitepapers, e-guides, and reports on network automation. Our carefully curated content provides deep insights, best practices, and innovative solutions to fortify your organization's cybersecurity posture and networking infrastructure.
Do more with less
Benefits of network automation
Speed

Increase speed of deployments whether it is for devices, end-to-end services or firewall policies, automation will enable you to do it faster.

Consistency

Increase deployment consistency and repeatability to enable rapid growth whilst minimising configuration errors and project delay.

Visibility

Increase visibility and change management to easily track who, what, why and when changes happen on your network.

Efficiency

Integrate and optimise workflows which interact with your network by employing API's and providing self-service.

Optimisation

Optimise and streamline your operations between multivendor tools so they operate like one system, just as you intended them to.

Reliability

Increase quality and reliability by introducing software development methodologies like continuous integration and continuous deployment (CICD) and automated testing into your network.

Job Satisfaction

Reduce repetitive manual tasks and instead allow your teams to focus on high-value strategic projects that help reduce churn and improve employee retention.
What next
Let us help you
Automation is not new, but more and more business processes are being automated. As a result demand for business process automation (BPA) is booming – the market is predicted to grow from $9.8 billion in 2020 to $19.6 billion by 2026. While concerns that automation can result in job losses still abound, this is not the main reason that many organisations are exploring automation. In fact, according to McKinsey research, only 5% of jobs consist of activities that can be fully automated.

In a recent Gartner blog 'The State of Network Automation in 2022' shows a survey result to the question 'what percentage of your data network activities are automated versus manual?' that 41% of respondents had automated less than 10% of their network activities, whilst only 5% had automated 76% or higher, which is actually quite impressive.

Demonstrating value and delivering ROI in line with expectations still alludes many I&O leaders. Nomios has created a guide to overcoming the typical challenges to either starting, delivering or expanding automation projects. Nomios is experienced in helping customers navigate the complexity and choice of automation tooling. We follow DevOps best practices and methodologies and provide practical advice independent of tooling and vendors, we start with you, your business, your aspirations and your challenges.
We pride ourselves on being easy to do business with, our customer testimonials demonstrate this. We are uncomplicated and do our best to demystify and simplify what often seems to be an over complicated subject matter. Why not put us to the test? get in touch and speak to one of our automation experts and see how we can help you in your business.


Download customer guide
The Four Horsemen of Automation
Get your copy of this customer guide, and defend yourself against the challenges of network automation. Or get in touch with us directly if you find this topic of interest.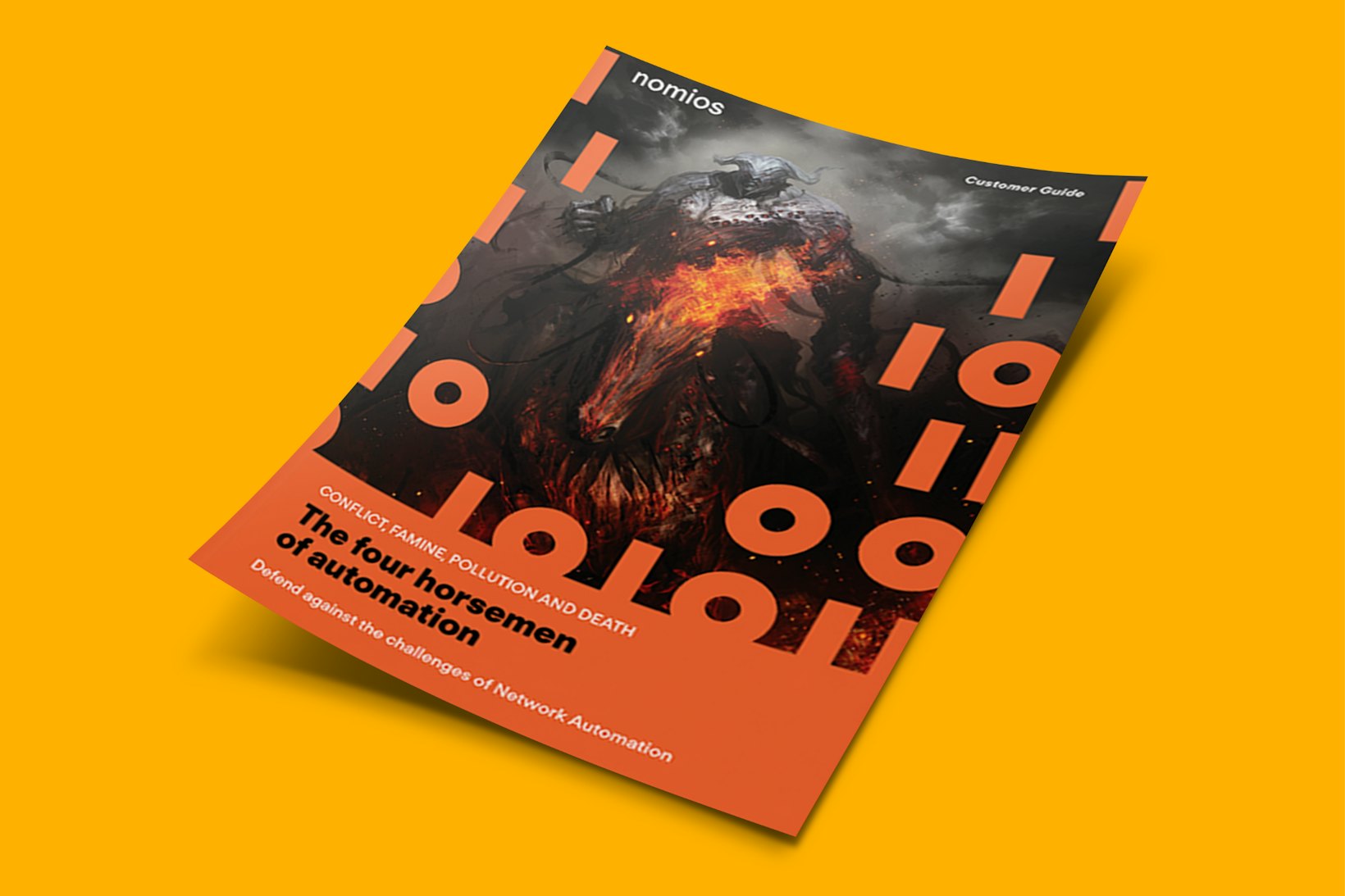 Our automation ecosystem
Automation partners we work with